Mirror Selfie
Mirror Selfie is about not being able to think about things to make zines about, cleaning up cat shit, taking selfies, sniffing flowers, endlessly staring at the wall, and spending 3 hours per day watching videos about different kinds of animals making friends with each other.

Risograph printed by Helio Press, slow-burning engine room of riso DIY publications, and produced in Narrm/Melbourne on Wurundjeri land.

16 pages, A6, Pink & Teal risograph print with Canary Yellow covers and Envirocare pages.

Limited edition of 300 copies.
2018
Mirror Selfie
Risograph printed by Helio Press, 16 pages, A6, Pink & Teal risograph print with Canary Yellow covers and Envirocare pages.
Limited edition of 300 copies.

2018
No More Tears
NO MORE TEARS - a recovery zine ♡

a zine created after i went through a difficult time
and then came out the other side ♡
this zine is a reaction to and a reflection of emotional abuse, recovery from addiction, and taking back control over what has previously controlled you.
it's a reclamation of strength and power and a reminder to be gentle with yourself even if others haven't been ♡

♡ YOU ARE GOING TO KEEP GETTING STRONGER ♡

A6, 12 pages, full colour, 2017
No More Tears
Fluids
mostly just pencil drawings of girls spitting on each other.
content warning: bodily fluids, spit, erotic themes

8 pages, A6, black & white
includes A3 pull-out poster (NSFW)
2017

♡
Fluids.
Bad Brain Club
i made this zine at the end of a bad mental health period while i was in japan in december 2016, it was super cathartic for me to get my thoughts down.

i hope that if you're experiencing similar feelings, it will give you some sense of solidarity and validation to know that others are going through similar things to you. sending you lots of love, always ♡♡♡

16 pages, colour, A6, 2016/17
♡
Bad Brain Club
The Surface Of Venus
limited edition risograph printed comic

a short comic about love, human interaction, creating your own world, and dealing with loneliness and depression

limited edition, risograph printed by Ashley Ronning @ Helio Press
http://heliopress.bigcartel.com/


A6, 8 pages, B&W irridescent cover (various colours), risographed teal print on pink stock
2016

♡♡♡
The Surface Of Venus
Sad Girls From The Internet
a zine for sad gals, anxious babes, girls who have crushes on themselves, crybaby cuties, & unapologetic femmes who won't smile when you tell them to

♡

yes all my friend are from the internet, but why on earth should that mean that they are not real? ♡

A6, 20 pages, mix of colour & b&w
August 2016
Sad Girls From The Internet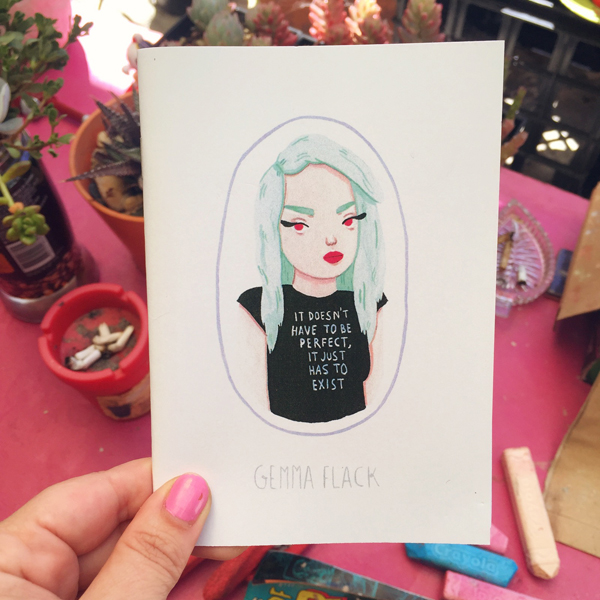 It Doesn't Have To Be Perfect, It Just Has To Exist
✓ creative expression
✓ the spirit of the universe
✓ watching a plant grow
✓ watching a dog play
✓ feeling nature inside you

'it doesn't have to be perfect, i just has to exist' is a zine about making things, feelings things, and doing things.
it's a reminder to yourself to be a magic and kind person... to other people, and to yourself.

a zine challenge to myself; i made this zine in one week in june 2015

A6, colour, 14 pages
$5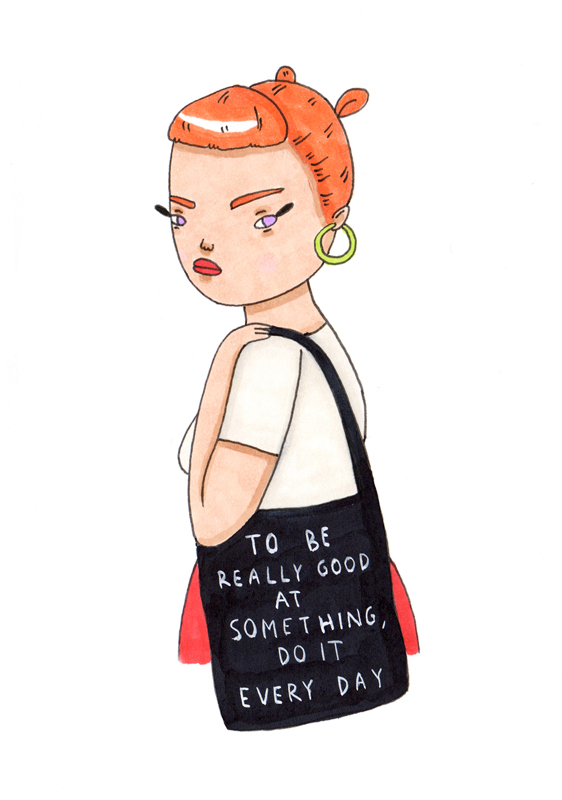 It Doesn't Have To Be Perfect, It Just Has To Exist
Angry Girls Club Colouring Zine
a cute fun & empowering colouring zine full of radical babes, self love and positive vibes

take up space, smash the system, don't touch me, selfies as self care, fight like a girl, keep learning and re-learning

full of femmo babes, with 11 colouring pages on thick paper, printed one-sided only so you can cut out the pages and display your work

A5, black & white (colour cover), 12 pages
february 2016
♡
Angry Girls Club
High Anxiety
this zine is dedicated to by beautiful baby cat Eno ♡ November 2010 - 23rd August 2015 ♡

high anxiety is a sad & personal comic about my experiences in the couple of months after my beautiful baby cat Eno was suddenly hit by a car and killed.

it deals with sadness, the intense anxiety that was triggered by his death, and my relationship with marijuana. it was really hard to make and even harder to put out into the world, but i'm really proud of the work i did for it.

A6, 10 pages, black & white, glossy pink cover
October 2015

♡
High Anxiety
Imaginary Girl Bands
Imaginary Girl Bands that didn't exist, but I really really wish they did.

The best imaginary girl bands from 1982 to 2015.
Which do you prefer, The Herb Girls or Suga N' Kandi?
Are you into Forest Power Folk or Turbo Future-Poptronica? This zine has them all.
25 limited edition risograph copies by Caldera Press SOLD OUT
Unlimited edition copies available on Etsy
14 pages, black and pink, A5
February 2015
$5
Imaginary Girl Bands
Kissing Zine
a celebration of the queerest cuties kissing, making out, smooching, snogging, pashing, sucking face, canoodling, caressing, necking... with little pecks & lots of tongue

a full colour erotic zine celebrating diverse sexuality & gender and the art of kissing ur sweetie.

A6 landscape, colour, 8 pages
february 2016

♡
Kissing Zine
You Don't Know Me
You Don't Know Me
An illustrated feminist affirmation of strong powerful women taking no shit from nobody.

$1 from the sale of every zine goes to the International Women's Development Agency, advancing women's rights in Asia and the Pacific.
14 pages, A5, black and white, cream cover.
February 2014
$4
You Don't Know Me
Vonnecats
A zine for anyone who likes the writing of Kurt Vonnegut + cute drawings of cats, because that is exactly what this zine is all about.

A bunch of some of my favourite Vonnegut quotes taken from his books, and drawings of cats inspired by those quotes.

Black and white, 14 pages, A6
Winter 2013
$2
Vonnecats
1994
♡ 90s ♡ fashion ♡ music ♡ acid smileys ♡ platform boots ♡ crimped hair ♡ shell suits ♡ dungarees ♡ bucket hats ♡glow sticks ♡ cassette tapes ♡ synthesizers ♡ fluffy cardigans ♡

an open edition black and white print from the original limited edition risograph printed fluoro zines (sold out)

I ♡ THE 90s

A6, black & white, 8 page fold-out minizine with poster inside
2014

♡
1994
limited edition of 99, printed on a riso machine at the drawing club, and hand numbered (SOLD OUT)
2014
The Girl With The Pigeon Tail
One of my very first zines, reissued. This is an original mini-comic about a lonely girl who is outcast from society because she is different. Sweet and touching, this is a lovely cute zine to read and pass on to your friends.
A6, full colour, 8 pages
2008/2016
The Girl With The Pigeon Tail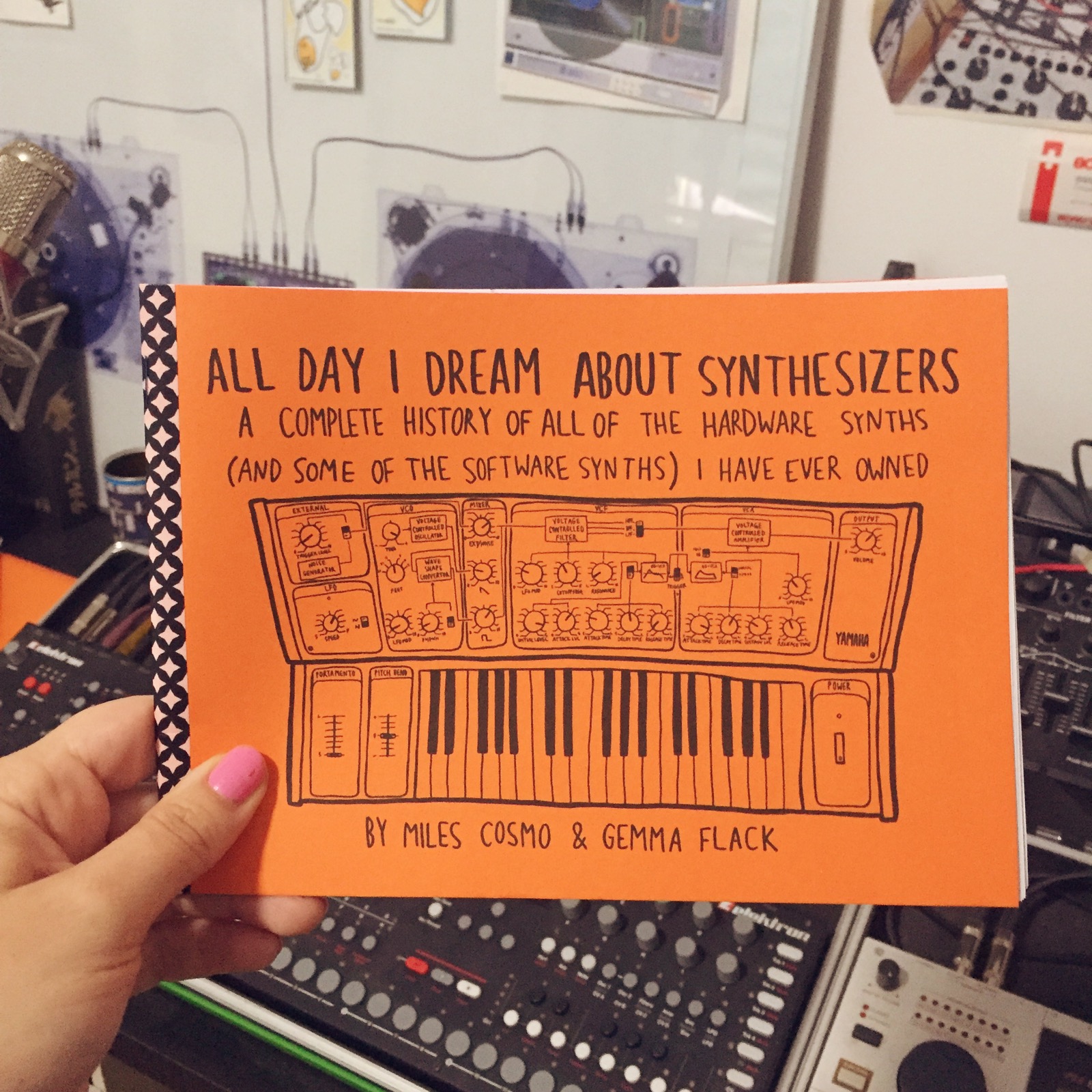 All Day I Dream About Synthesizers #1
all day i dream about synthesizers is a zine collab with synth enthusiast miles cosmo (milescosmo.bandcamp.com)

a complete history of all of the hardware synths (and some of the software synths) that Miles has ever owned. some classic and not so classic synths with a synth drawing to accompany each one

32 pages, A5, black and white
2015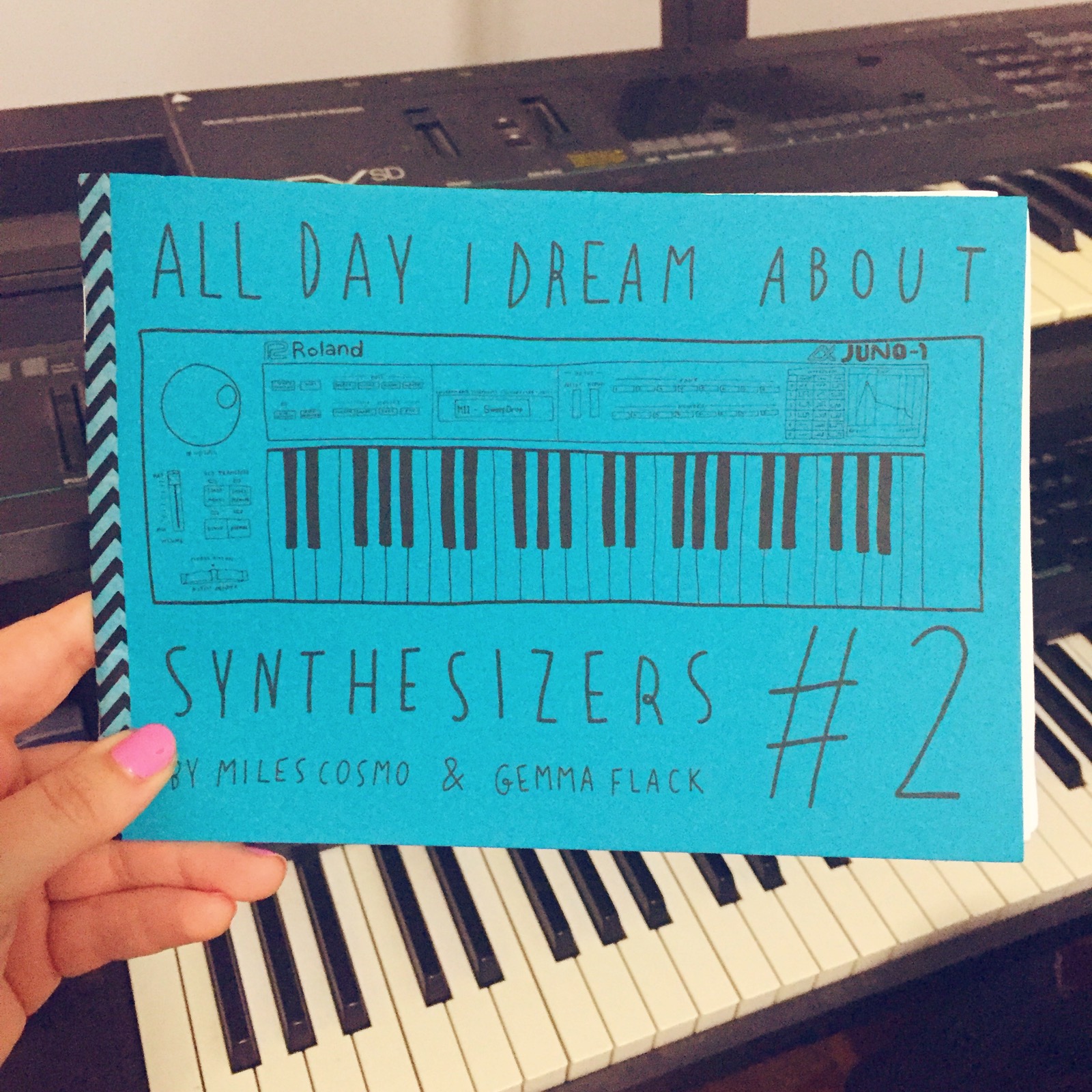 All Day I Dream About Synthesizers #2
all day i dream about synthesizers is a zine collab with synth enthusiast miles cosmo (milescosmo.bandcamp.com)

a continuation of the history of all of the hardware synths (and some of the software synths) that Miles has ever owned. some classic and not so classic synths with a synth drawing to accompany each one

24 pages, A5, black and white
2016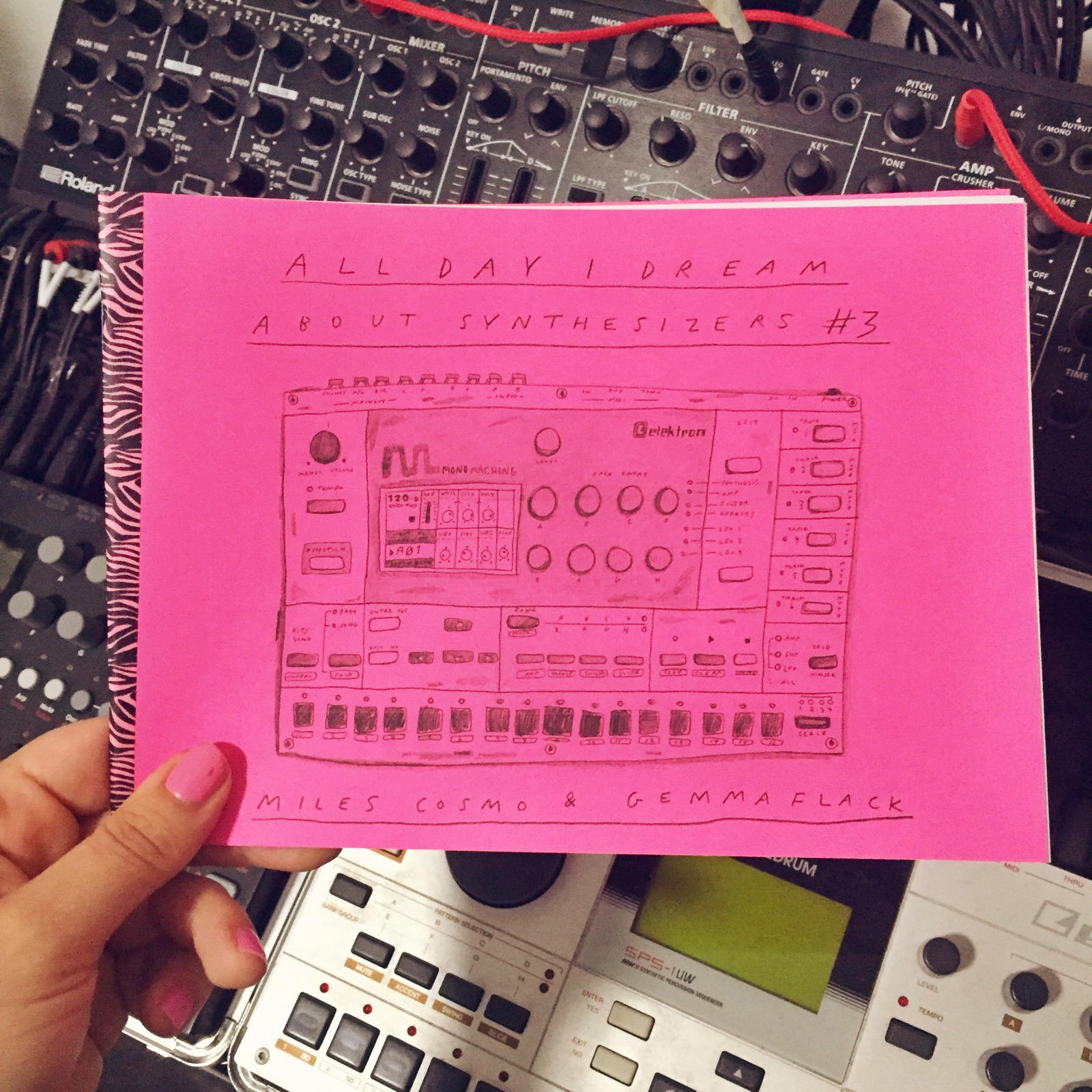 All Day I Dream About Synthesizers #3
all day i dream about synthesizers is a zine collab with synth enthusiast miles cosmo (milescosmo.bandcamp.com)

a complete history of all of the hardware synths (and some of the software synths) that Miles has ever owned. some classic and not so classic synths with a synth drawing to accompany each one

22 pages, A5, black and white
2017
All Day I Dream About Synthesizers #3